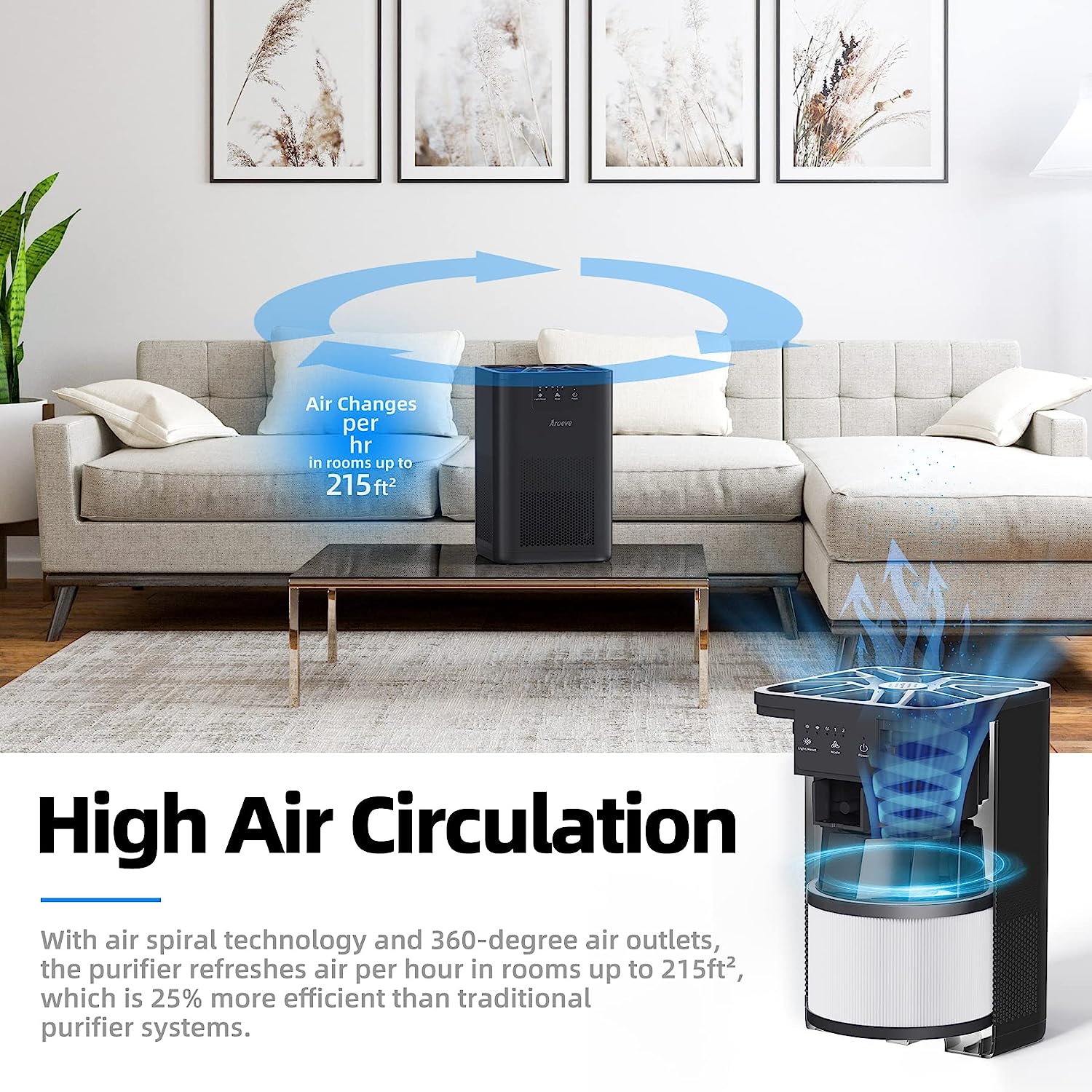 AROEVE Air Purifiers | MK06 (BLACK)
---
【[Filters 0.3-Micron Particles】: The air purifier is equipped with HEPA filters that meet high-efficiency particulate air (HEPA) standards, ensuring efficient filtration of smoke, pollen, dander, hair, and more. 

【Enjoy Fragrant Air】: Add 4-5 drops of your favorite essential oil (not included) to the top aromatherapy pad. The air that the family breathes is not only healthy and comfortable but also fragrant with the flow.

【20dB Low Noise Operation】: Turn on the sleep mode of the purifier, and freshen the air with the lowest noise of 20dB.

【High Circulation Rate】:   The purifier uses advanced air spiral technology and 360-degree inlets, which allows it to refresh the air per hour in spaces up to 215 sq ft/20 sq m and you can experience a 25% increase in purification efficiency.

Notice: Our machines are set up with a 2000-hour filter replacement reminder. We recommend replacing the filter cartridge every 3-6 months.
FAQ
Questions of real users from different platforms.
Can I run the product 24/7?

We recommend that you turn on your purifier 24/7 so that there is fresh air released.The purifiers are rigorously tested to ensure that each purifier works properly and continuously.
Do I have to change the heap filter?

Depending on your environment, ( lot of dust or little amount of dust) would be the need for changing the filter.
Our air purifier has 2000 hours replacement alert, when the air filter is used for more than 2000 hours, the indicator at the top will turn red to remind you that the air filter needs to be replaced. After replacing the filter, long press the "Light" button for 2 seconds, and the red indicator light will flicker 3 times with 2"beeps" when it is re-set, it will re-count the lifespan of the filter.
Why isn't the diffuser working effectively?

The aroma box is relatively small, so the range of its effect might not be very noticeable.A5:You can try using stronger essential oils to enhance the scent.Our product releases air at the top, allowing the fragrance to spread. Try setting the product to the highest gear for a more pronounced fragrance
Why is my air purifier producing noise?

1.Ensure that the filter is correctly installed, and any plastic packaging has been removed.

2.Verify that the air purifier is placed on a hard, flat, and level surface.

3.If the issue persists, it is possible that the air purifier may be damaged. We recommend discontinuing use and contacting our Customer Support for assistance.
Please contact us support@aroeve.com